What We Can Shred for You
Hard drives
Documents
Floppy Disks
X-Rays
What Sets Bayaud Apart?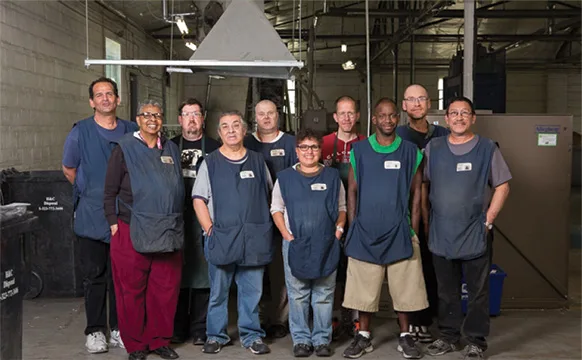 Bayaud provides top notch, plant based, AAA NAID Certified paper and hard drive shredding for the Greater Metro Denver homes and businesses at an affordable price. But unlike other document and hard drive destruction services, Bayaud is a local nonprofit that creates jobs for people with disabilities and other barriers to gainful employment. Our shredding services help fund Bayaud Enterprises, an organization that provides vocational programs that place people with physical, mental, emotional and economic barriers to employment, in private and government sector jobs. When you choose Bayaud, you help employ people that wouldn't otherwise have the ability to secure gainful employment. Have you seen the Laundry Trucks or Shower Truck around town? Those are operated by Bayaud Enterprises to provide clean clothes and showers for those who are homeless. You can also visit our nonprofit website at www.bayaudenterprises.org to see how we make our community a better place or click on our About Us page.
You can see a copy of our current Certificate by clicking here
NAID Certification
.
If you have questions regarding any of our services or would like to schedule a pick up at your business or home, call Susan Williams Robinson at 303-830-6885 ext 225, or email her at This email address is being protected from spambots. You need JavaScript enabled to view it. or Tammy Fortune at 303-996-6693 or 303-830-6885 ext 245 or email her at This email address is being protected from spambots. You need JavaScript enabled to view it.
Follow us on Facebook and Twitter for updates on our work in the community.
See what other services we provide in the community https://www.youtube.com/watch?v=YzA6_5J-sJs.
You can view additional videos about Bayaud on Youtube https://www.youtube.com/user/bayaudenterprises
Bayaud Enterprises is a 501(c) 3 Nonprofit agency and all DONATIONS are eligible for tax deductions.
Bayaud also participates in ColoradoGives day https://www.coloradogives.org/BayaudEnterprises/overview
You can find specific pricing information about all of our shredding services by clicking on our pricing page.